Messaging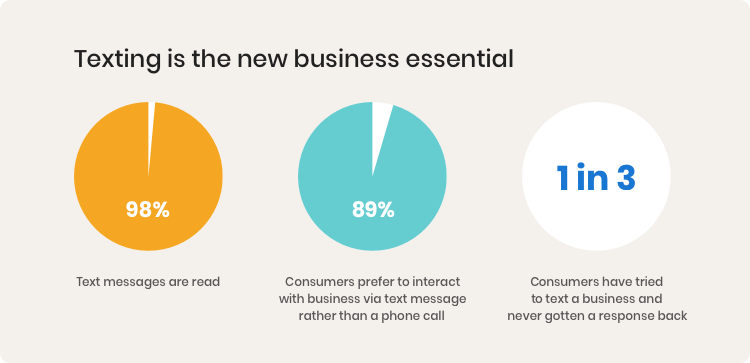 With convenience, accessibility and functionality in mind, mobile is the channel of choice across all industries. People are using messaging to not only stay connected with friends and family but also with businesses.
Here are some of the most popular messaging options:
Text messaging (SMS)

While 89% of consumers would like to use messaging to communicate with businesses, only 48% are equipped to connect with customers through messaging. Interestingly, 53% of people are more likely to shop with a business they can message directly. Texts are a great way to stay connected with customers even when you or they are on the go. Convenience and speed makes text messaging a preferred interaction channel for today's customer.

Landline texting

Your website, appointment cards, invoices, newsletter - all have your business phone number. Chances are that your customers also have this number stored in their phone contact list. When you use your landline to text your customers, it takes the suspicion out of the equation. Your customers know that the message is from you. Communication is seamless.

Mass texts

Marketing emails have a way of getting buried in inboxes or removed as spam and telemarketers are generally hated. Mass texts help to circumvent both these issues and help deliver a better response rate. They also come in super handy if you want to make a general announcement to your customers. Mass texts are therefore a great new-age marketing as well as customer engagement tool.

Facebook messenger

People increasingly prefer to message businesses. According to a Facebook study, people who message businesses increasingly say messaging is the best way to engage with a business. This is not surprising. Facebook has over 2.4 billion users and out of this at least 1 billion people use messenger each month. As they are already on Facebook and using messenger regularly, it is convenient for them to use this channel to connect with businesses.
Messaging is convenient, quick and efficient. This makes it an ideal customer interaction channel for today's digital consumer.
Once you have decided on all the customer interaction channels you want to manage, it may be an overwhelming exercise to manage them individually. Then there is the problem of being able to monitor their performances at one place. This is why it makes sense to invest in a customer interaction management platform that makes the process easy to implement and monitor.
Get started with messaging today